Eustis Estate
Kimberly JB Smith
This little sculpture has two facades and both were inspired by two examples of East meeting West. The side with the brown door was photographed in a town in New Hampshire. The door leads to a private garden and has a dragon carved on the top.This door was clearly inspired by Eastern traditions, yet made its home in New England.  After photographing the door, I cropped it, keeping the lovely wood grain and adding a number of metal embellishments to give this side a peaceful countenance.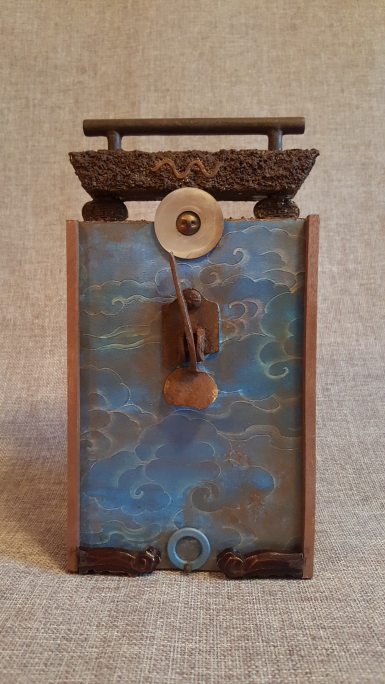 The blue side was photographed from a lovely scroll that was given to me by a friend. She was given the scroll by a family member who had traveled to Eastern regions. I am grateful for the gift and photographed a small area of the large scroll, essentially cropping the section digitally. The blue image was weathered, by me, to blend quietly into the composition. Details include vintage appetizer fork handles, an earring part, an antique door latch and a button.  
The top of this two sided gate is composed of a door handle and is inspired by the traditional Japanese Torii gate. Upon entering the the gate, one is believed to transition from the mundane to the sacred. 
      This sculpture is a conglomeration of separate elements. Together, they create a new reality. We all come from different realities. I believe we can respect and honor each other. If we do, we too, can transition from the mundane to the sacred. Thus, this secret garden is revealed as a solution to the dissention so readily apparent in today's world."