Eustis Estate
Chapel Chamber at Beauport
WILLIAM BRUCE ELLIS RANKEN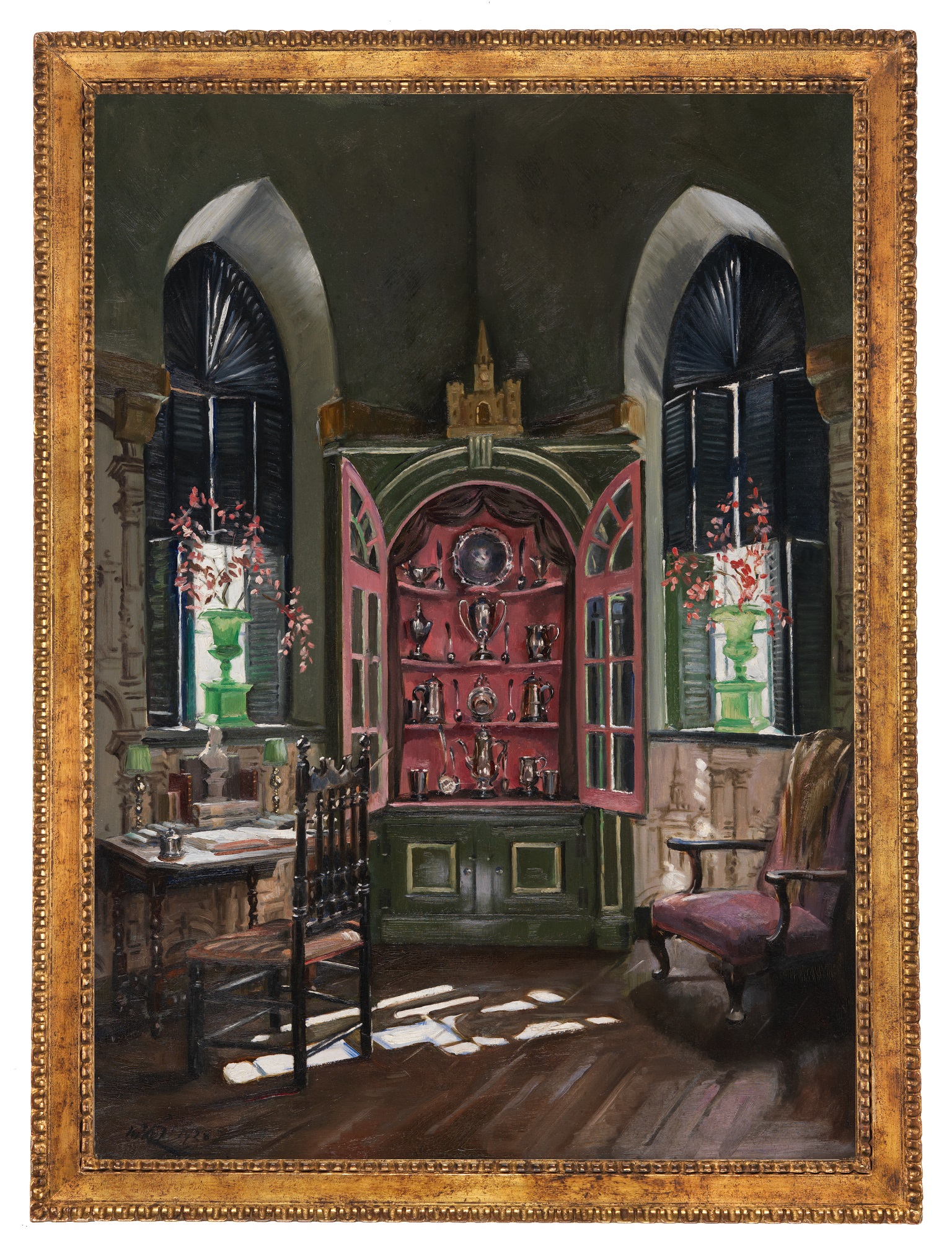 A confirmed bachelor, Henry Sleeper is likely to have shared interests beyond art with William Ranken, who was exceptionally handsome and as devoted to the British actor Ernest Thesiger as Sleeper was to his neighbor in Gloucester, the economics professor A. Piatt Andrew. Born in Edinburgh, Ranken had attended Eton College, where he mixed with Britain's elite, then London's progressive Slade School of Art. Thanks to John Singer Sargent's introductions, he created portraits of leading families in America and, by the late 1920s, when Sleeper commissioned this and eleven other "portraits" of his two homes, Ranken had painted the families and houses of many British aristocrats—probably another enticement to Sleeper.
How does the room look now?
The Chapel Chamber (or Paul Revere Room) was added to Beauport in 1911. The room today looks much as it did when it was painted by William Ranken in 1928. Click on the hot spots to learn more about the objects in the room.
Image at right courtesy of Lindsay Heller of the American Castles account on Instagram.
The urn (a larger version of which is in this gallery) contains natural uranium, which gives the glass its beautiful green color. Uranium glass often fluoresces alluringly under ultraviolet light, which makes for a fun party trick while entertaining guests. This was popular from the mid-nineteenth century until the mid-twentieth when the materials became more restricted. People may be nervous to handle uranium glass for fear of getting radiation poisoning. However, radiation emitted from uranium glass objects is often well below the exposure amounts recommended by the United States Nuclear Regulatory Commission. Our bodies are subjected to general radiation through everyday life here on Earth. As long as we don't inhale or ingest the uranium glass, all should be well.

This distinctive Pillar and Arch Wallpaper was made for the Paul Revere Memorial Association, who restored the Paul Revere house and opened it as a museum in 1908. They found this pattern while doing restoration work and dated it to about 1770. No one is quite sure what it is meant to depict though scholars have suggested it could be one of Sir Christopher Wren's churches in London.

This whimsical earthenware castle is actually a jardinière for displaying plants. It is English, 1875–99.
This corner cabinet originally housed Henry Sleeper's collection of Paul Revere silver (shown in the historical image above). He donated the collection to the Museum of Fine Arts, Boston in honor of his mother, Maria Westcott Sleeper. It now contains ceramics from his collection.
Click on the hot spots
to learn more
Beauport, the Sleeper-McCann House
Gloucester, Massachusetts
Beauport, the Sleeper-McCann House, a National Historic Landmark, was the summer home of one of America's first professional interior designers, Henry Davis Sleeper. Perched on a rock ledge overlooking Gloucester Harbor, Beauport was Sleeper's retreat, backdrop for entertaining, and professional showcase, and an inspiration to all who visited.
After Sleeper's death, Beauport was purchased by the McCanns, who left it largely intact. Visit Beauport and see Sleeper's lifetime collection of curiosities, colored glass, folk art, china, and silhouettes in every nook and alcove. Each of the forty rooms is distinguished by a historical or literary figure, theme, color, shape, or object. No two rooms are the same, and each is more visually dazzling than the last. Get to know Sleeper, a gay man living in the early twentieth century; his housekeeper, Mary Wonson; his fascinating neighbors; and the house's many colorful guests.
Beauport is located at 75 Eastern Point Boulevard, Gloucester, Massachusetts.
The Conservator's Notebook
Why are paintings varnished?
Oil paintings are meant to be varnished for the same reason furniture is—to protect and enhance the surface. Perhaps because it was done quickly for a magazine this painting was never varnished. Therefore the surface became dirty and dull with age. The surface was carefully cleaned and a layer of transparent varnish was applied to saturate and enhance its beauty. Below you can see the contrast in the before (left) and after (right) cleaning images.