Eustis Estate
Portsmouth Street Scene
William H. Titcomb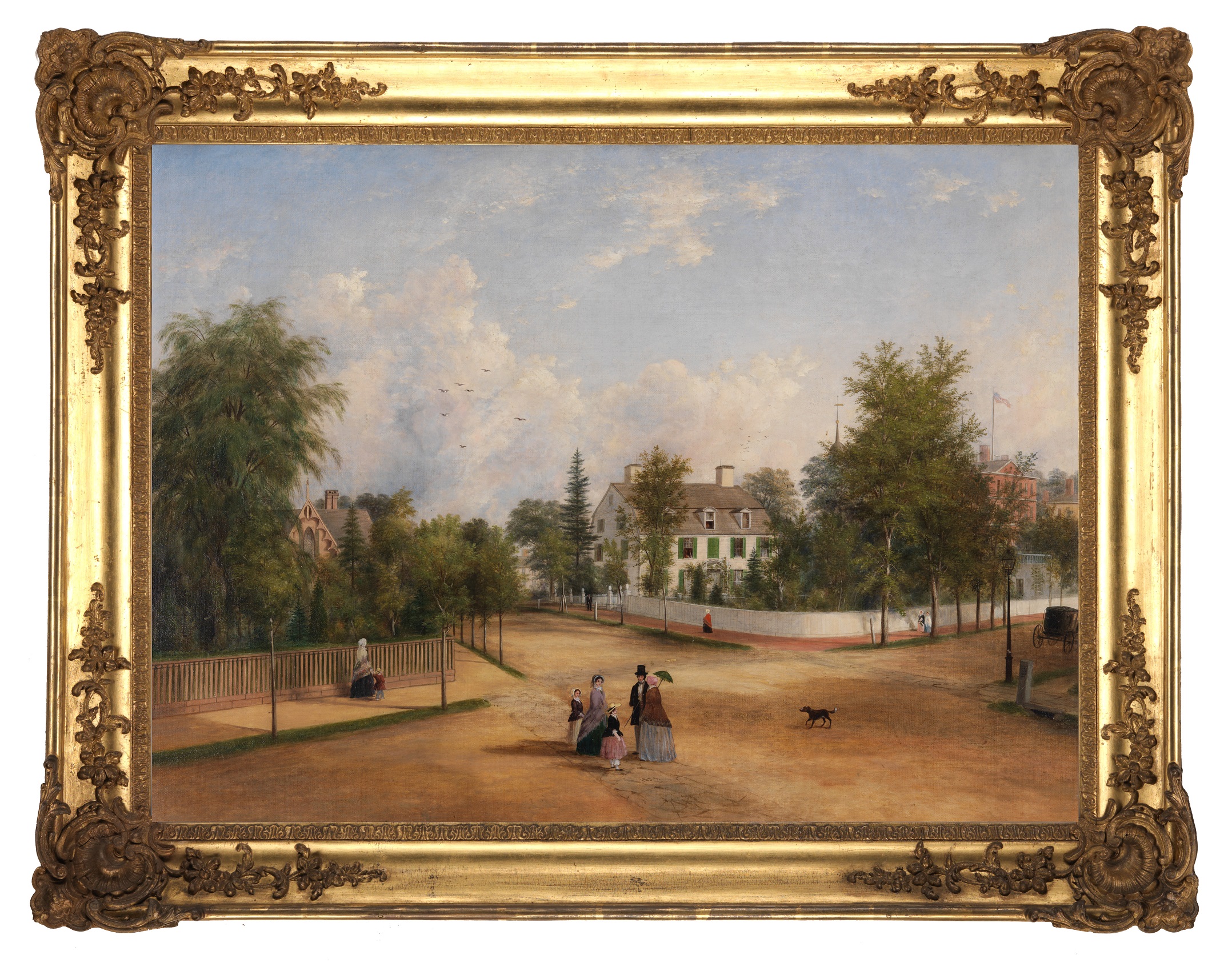 The white house just off center was on the outskirts of town when it was built in 1758. In 1854 when this image was created the house belonged to members of the Lord family who likely commissioned the painting. Today the house is known as the John Paul Jones House, operated by the Portsmouth Historical Society since 1917. The painting has been part of the furnishings of Historic New England's Rundlet-May House since 1903 when James Rundlet May's wife Mary Ann Morison inherited it.
Bird's-Eye View of Portsmouth
This 1877 map shows a bird's-eye view of Portsmouth around the same time as William Titcomb painted his street scene. The view is from the north, looking south.
A key at the bottom names the principal buildings and churches. Ruger, A. (Delineator), D. Bremner & Co., Lithographer (Lithographer).
Click on the map to see the location of the above painting and other interesting landmarks. For the full map to zoom in, see below.
Location of Titcomb's Portsmouth Street Scene. The artist had his back to the church with his focus on the white house diagonally across the street.
The Titcomb painting usually hangs at Historic New England's property Rundlet-May House. Learn more about it below.


Historic New England's Langdon House

Historic New England's Jackson House

Click on the hot spots
to learn more
Rundlet-May House
Portsmouth, New Hampshire
Merchant James Rundlet and his wife Jane built their home on a terraced rise and filled it with the finest furnishings available. It was both an urban showplace and home for the Rundlets' large family. Rundlet-May House shows four generations of family possessions, ranging from original 1807 wallcoverings and furniture to twentieth-century additions by the Rundlets' great-grandchildren.

James Rundlet equipped his home with the latest technologies. The kitchen boasts both a Rumford roaster and a Rumford range, as well as a set kettle and an elaborate venting system that services a smoke room on the third floor. There is an early coal-fired central heating system and an indoor well. The gardens retain their original layout with plantings that were popular during the Colonial Revival period.
Rundlet-May House is located at 364 Middle Street, Portsmouth, New Hampshire.