Eustis Estate
Sally Sayward Barrell
Joseph Blackburn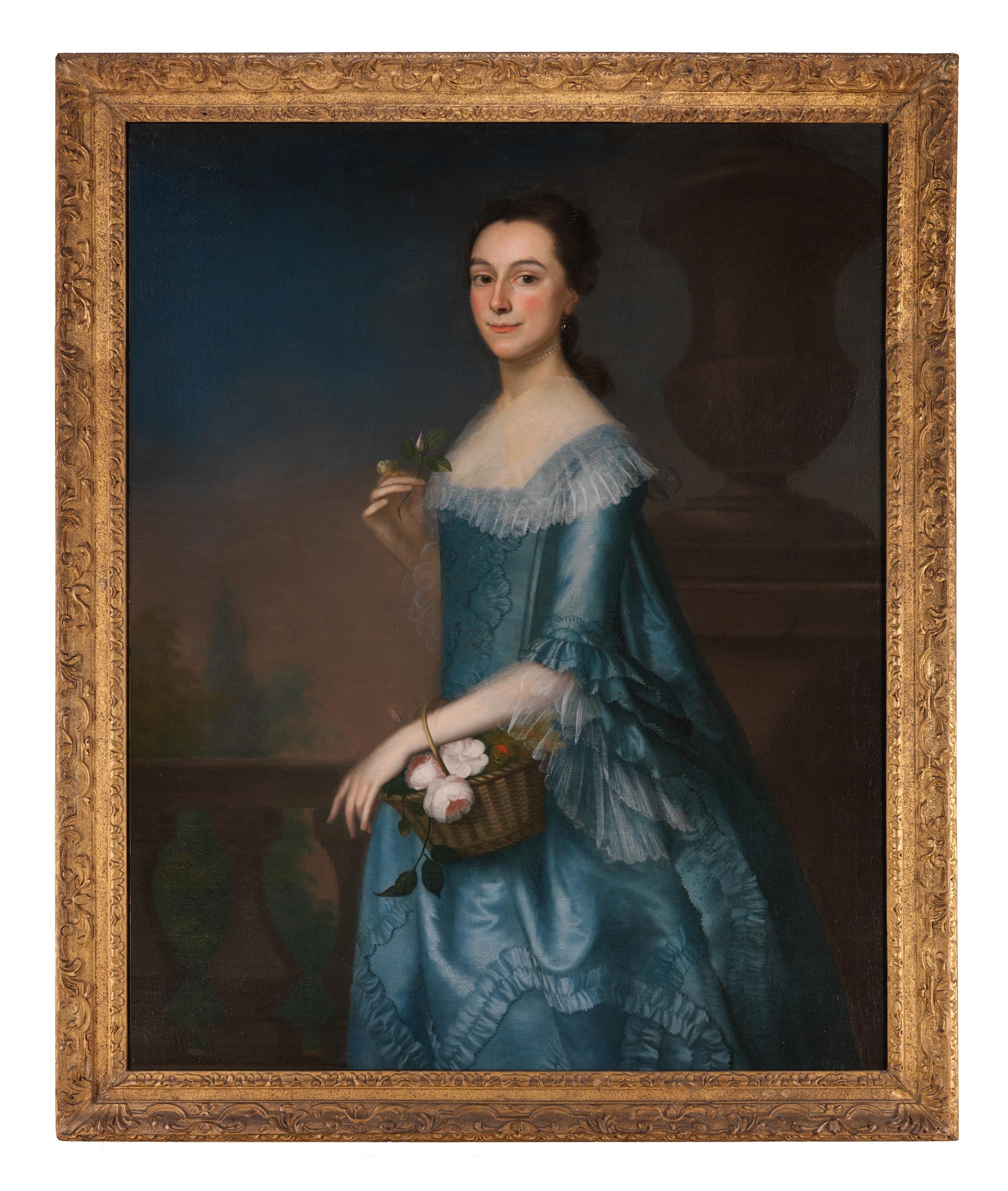 Painting in Context
Sayward-Wheeler House Parlor
The portrait of Sally Sayward usually hangs in the parlor of the Sayward-Wheeler House (c. 1718) in York Harbor, Maine. The house and its contents are a remarkable survival, with many of the furnishings still in place as they were in the eighteenth century. While it's easy to see surviving links to the family who owned the house for generations, it's not easy is to see evidence of the enslaved people who lived and worked there, Boneto, Prince, and Cato. Boneto, an Indigenous enslaved person, was held at the house in the early eighteenth century. Later in the century, Prince and Cato were there. Prince was married to Dinah, an enslaved "servant" of a tavern owner in York. He served in the Continental Army until 1781 when "Friends of Prince Sayward, a negro servant and slave" paid for Prince's freedom. Also in 1781 Cato appears to have purchased his own freedom. Jonathan Sayward recorded the transaction in his diary: "July 3, 1781: I sold Cato my negro his time for 275 Dollars."
Click the hot spots in the image to learn more. Learn more about Sayward-Wheeler House and Historic New England's new interpretation in the section below.
Portrait of Jonathan Sayward (1713–1797), Artist unknown, c. 1750.
Sally Sayward's father Jonathan Sayward began life as a mariner, worked at shipbuilding, and eventually became a successful trader. He was involved in the fur trade with Canada and the timber trade with what were then known as the "Sugar Islands." We do not know whether he was directly involved in the slave trade, but as the owner of ships that regularly traveled to the Caribbean, he would have associated with those who were.
Drop-leaf Table
This table, made around 1755–70 in southern Maine, and indeed most of the furniture in the room, is made of mahogany, an expensive and fashionable material used in the furnishings of many well-to-do New Englanders in the eighteenth century. The wood was harvested by enslaved people working under wretched conditions in the Caribbean and Central America.
Blackburn's portrait of Sally Sayward has hung in the same location in the Sayward family's parlor since the painting was completed in 1761.
Click on the hot spots
to learn more
Sayward-Wheeler House
York Harbor, Maine
Sayward-Wheeler House overlooks the York River, which was ideal for shipping merchant Jonathan Sayward (1713–1797), who bought the house in 1735. A successful businessman, Sayward was a judge and leading citizen in York. He enjoyed great community respect, although his Loyalist views were in the minority during the years leading up to the American Revolution. In 1775 he was stripped of his local positions and confined to the town by anti-Loyalist officials.
Sayward suffered through many restless nights, of which he wrote in his diary on May 12, 1777, "I heard the Clock every Hour Last night." Today, the clock remains in the sitting room near Sayward's desk, one room away from where he struggled to sleep. The house changed little in the following century, due to the declining wealth of Sayward's descendants and in deference to the family's venerable patriarch. The parlor still contains the 1700s furniture and portraits that were there on the eve of the Revolution. It is believed to be one of the best-preserved colonial interiors in the nation.
A new tour on the horizon at Historic New England's Sayward-Wheeler House, will consider the site and its collection from the viewpoints of several eighteenth-century household members, substantively four enslaved people—Prince, Dinah, Cato, and Boneto. Previously, the narrative joined collection items and his own diaries to reflect the life of homeowner Jonathan Sayward. The new tour will reexamine these same collection items for insight into lives previously uncelebrated.
Sayward-Wheeler House is located at 9 Barrell Lane Extension, York Harbor, Maine.